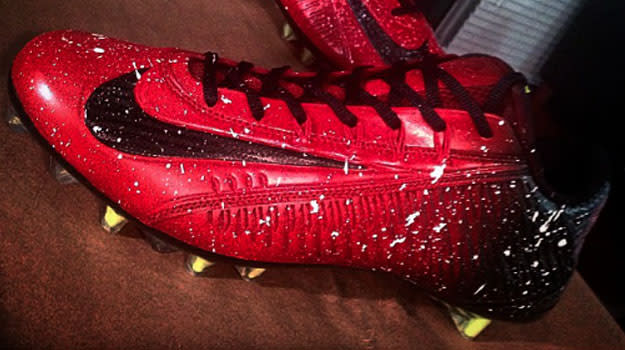 It is widely agreed upon that the NFL is the hardest of the four major North American sports to push your personal brand as an athlete. With the use of helmets covering the players identities, as well as the strictest uniform policies around, professional football players only real avenue to personal expression is through their cleats.
A few weeks ago we brought you the story of DeSean Jackson and his $1,000 cleats designed by Marcus Rivero, or "Soles by Sir" as he is known on Instagram. As Rivero's profile continues to grow, more and more players are enlisting his help to design "1 of 1" custom cleats for game day. Besides Jackson, other big name stars who have rocked Rivero's work on the gridiron include Reggie Bush, Terrell Suggs and Cameron Wake just to name a few.
With a full slate of NFL action on tap for this afternoon, we figured we'd give you a rundown of all the customized cleats you'll be seeing on the field today. View the images below and make sure to look out for these "1 of 1" cleats during your football viewing today.
Japer Brinkley
Reggie Bush
Rashad Johnson
Teddy Williams
Mike Pouncey
Brandon Gibson
Antoine Bethea